U.S. Postal Service's Letters to Santa
This year marks the 100th year for the United States Postal Service Letters to Santa program, helping make children's holiday wishes come true. Letters to Santa receives over 500,000 letters addressed to Santa Claus each year from children. The popular holiday program responds to the letters by providing a written response to their holiday wishes signed by Santa. USPS employees, members, charitable organizations, and corporations can all join in and participate in fulfilling the dreams of children nationwide.
jcpenney's Holiday Giving Tour
Before the campaign ends, we wanted to highlight jcpenney's Holiday Giving Tour and join in on the holiday spirit. The Holiday Giving Tour allows the company to embark on a 12-day tour throughout the U.S., carrying out special acts of generosity in a new city each day. From Christmas tree lighting and ice skating to Santas and tobogganing, jcpenney will bring a touch of holiday cheer to cities across the country through simple acts of generosity that pay homage to classic American holiday traditions.
Give Back with Toys "R" Us
To begin the holiday spirit, Toys "R" Us has kicked off the season of giving with its second year of Give Back campaign. Individuals across the country can anonymously pay off layaway balances of strangers in gestures of good will. This year, for each layaway balance paid off as an act of kindness, the company will donate $200 worth of toys to the Marine Toys for Tots Foundation, up to $1 million worth of toys.
Every Second Counts
Capital One and Cell Phone for Soldiers launched a new mobile application cause campaign called Every Second Counts, dedicated to connecting U.S. Military members with loved ones all over the world. For every individual who downloads the Capital One mobile app and signs in for the first time 60 seconds will be donated. In addition, every time an individual views their transactions, pays a credit card bill, transfers money between accounts, etc. 10 seconds will be donated to Cell Phone for Soldiers.
Loads of Hope
In the aftermath of Super Storm Sandy, many corporations immediately offered support to storm victims by lending its assets to nonprofit organizations. Tide in partnership with American Red Cross continued its campaign, Tide Loads of Hope, that provides washer and dryers to victims in need of clean clothes. Tide Loads of Hope offers relief by sending mobile laundromats to the location of the disaster and provides families with washed, dried, and folded clothes prepared by employees for free.
Virgin America's Both Sides of the Aisle Win
As the presidential election rolls upon us in the next coming days, we highlight Virgin America's political stance in its recent cause initiative. In partnership with Rock the Vote passengers are encouraged to register before the November 6th presidential election in its Both Sides of the Aisle Win campaign. Passengers on board were able to register to vote directly from Virgin America's in-flight entertainment platform, "make a difference," seen on their seat-back screens.
Sonic's Limeades for Learning
For the third year in a row, Sonic launches its annual Limeades for Learning campaign in partnership with DonorsChoose.org. Limeades for Learning provides essential funds needed for learning materials and teaching techniques to U.S. public school teachers in local communities. Between September 24 - October 29, Sonic customers, fans and students can vote daily for their favorite teacher project to receive funds.
Kimberly-Clark 30-Day Challenge
To mark the fifth anniversary of Global Handwashing Day, Kimberly-Clark and The Healthy Workplace Project launched a 30-day challenge that will culminate in a $25,000 donation to the U.S. Fund for UNICEF in support of UNICEF's Global Handwashing initiative. Between October 15 and November 15, individuals can take a three-question online quiz that tests their knowledge of key health and hygiene issues. Once completed, individuals can choose one of three UNICEF projects to benefit from the donation.
Panera Cares
The famous sandwich and coffee cafe Panera Bread is partnering with their business Panera Cares, a nonprofit version of the national chain, to help communities and raise awareness about middle-class food insecurity. The concept of Panera Cares, "pay what you want," allows customers to donate as much as they can or less for a meal or beverage at the cafe. The money Panera Cares stores make pay for the operations of the business with any additional profits going towards local community charities.
Chipotle Supports Education
Chipotle is enlightening consumers and children about the importance of how food is grown and produced in their new campaign and partnership with Veggie U. For every kids meal purchased during August 24th-31st, 100% of the proceeds, up to $250,000, supported Veggie U classroom gardens. Consumers are able to bring their original receipt back anytime in September and receive a free kids meal as an appreciation of their support to education.
LensCrafters OneSight
LensCrafters program OneSight is committed to providing individuals in need of vision care worldwide through multiple cause initiatives. LensCrafters OneSight offers free eye care and eyewear to those who do not have access to eye clinics. With OneSight campaigns, consumers are able to donate their spare change to LensCrafters in a donation box placed at the register or contribute used eyewear to a local LensCrafters store.
Campbell Soup - Just Peachy
Campbell Soup Company is teaming up with the Food Bank of South Jersey (FBSJ) to raise funds from their all-natural salsa made out of imperfect peaches called Just Peachy. Residents of South Jersey can pick up their jar of salsa at their local Collingswood Farmers' Market, Tortilla Restaurant or order the product online. The salsa is expected to raise more than $100,000 for the Food Bank of South Jersey and their nine hunger relief programs.
AT&T's It Can Wait
AT&T, its employees, consumers, and other supporters are calling on all drivers to take the no-texting-and-driving pledge for their It Can Wait campaign. On September 19, AT&T is encouraging Americans to make a promise and never text and drive again on the nation's first "No Text On Board Pledge Day." Supporters can share their pledge with others via Twitter (#itcanwait) and Facebook.
Method's Ocean Plastic Collect + Clean Up
Method, a cleaning supply company, is going above and beyond with their new cause initiative by incorporating debris from the Great Pacific Garbage Patch into packaging for their new product bottles. The current initiative, Ocean Plastic Collect + Clean Up, occurred during National Oceans Month this past June. During the month, employees, consumers, and participating nonprofit volunteers helped collect and clean up garbage swept up in the Great Pacific Garbage Patch from multiple beaches along the coasts of Hawaii.
Target's Give With Target
As the back-to-school shopping begins to unfold, Target has launched a new campaign, Give With Target, in an effort to give back to schools for extra need of supplies. Give With Target aims to support and reward K-12 schools up to $10,000 each in Target Gift Cards for books, writing utensils, or any supplies they may need for the 2012-2013 school year. Every week, consumers can vote by entering your zip code and choosing your neighborhood school. For every 25 votes a school receives, Target will send a $25 gift card, up to a maximum of $10,000.
Men's Wearhouse National Suit Drive
Now in its fifth year, Men's Wearhouse launched their National Suit Drive once again this summer benefitting at-risk men transitioning into the workforce. Between June 27 and July 31, consumers could donate professional attire such as suits, dress slacks, dress shoes, etc. at their nearest Men's Wearhouse location, aspiring to donate 110,000 items of clothing. Clothing donations collected at nearby stores were directed to local participating nonprofit organizations in each state.
Walgreens School Supply Drive
Beginning July 29, Walgreens is supporting the Kids in Need Foundation through a school supply drive in an effort to provide children with free supplies for the new 2012-2013 school year. Consumers can visit their nearby Walgreens and donate school supplies such as crayons, markers, paper, pencils, etc. inside a collection box located at the front of the store. One hundred percent of consumer donations will go to the Kids In Need Foundation for students and schools in need of supplies.
jcpenney- jcp Cares
Starting this month, jcpenney is pulling out all the stops and launching one of their largest cause marketing campaigns, jcp Cares. Beginning in July until the end of the year, jcpenney will team up with different charities each month to help support and raise funds for their cause. July is dedicated to American troops, August and September will benefit education organizations, and November and December will support childhood hunger and youth causes. This month, jcpenney will invite customers to round up their purchases to the nearest whole dollar and donate the difference to the featured charity. Along with round-up donations, jcpenney will make a $1 million donation to the USO for the month of July.
Wendy's Treat It Forward
For the sixth consecutive year, Wendy's launches its Treat It Forward campaign in an effort to help the 107,000 children in foster care find their forever homes. During Mother's Day, Father's Day, and National Adoption Day weekends, Wendy's will donate 50 cents, up to $50,000, to Dave Thomas Foundation for Adoption for eachTreat It Forward action. Actions include check-in's through smartphones, retweets on Twitter, or selected product purchases at your local Wendy's.
Lenovo and Bing "The Hunt: 11 Days of Doing"
Lenovo and Bing are teaming up with DoSomething.org for their new campaign, The Hunt: 11 Days of Doing, to encourage young people to make an impact in their communities. Beginning July 10, young people can participate in 11 days of challenges that allow teens to get involved in their communities this summer and win additional prizes for themselves. After a challenge is completed, teens can post and share a photo on DoSomething.org to verify their earned points. Top teams with the most points will have the opportunity to win a Lenovo Ultrabook, scholarships, and the chance to attend the Do Something Awards in Los Angeles, California.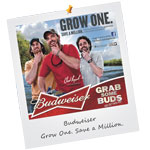 Budweiser Grow One. Save a Million.

For the second year in a row, Budweiser launched its Grow One. Save a Million. water conservation campaign that led up to this past World Environment Day. The campaign asked men to make a pledge and not shave their beards in an effort to save one million gallons of water. Consumers 21 and older can visit Budweiser's Facebook page, pledge and invite friends to do the same. Other options were also provided for men and women to conserve water including turning off the tap water while brushing teeth or shortening shower time.
Watch City Brewing Company's Rescue One Kolsch

The Waltham, Massachusetts based pub, Watch City Brewing Company, created and brewed Rescue One Kolsch in honor of a fallen firefighter, Jon Davies. The beer, brewed with the help of Worcester fighters, will be sold at the local pub with donation proceeds from sales going towards the Jon Davies Children Memorial Fund to benefit Davies' three growing sons. Supporters from nearby cities and across New England can also purchase kegs and limited edition bottles.
Sears - Love. Hate. Share Your Thoughts. Send Some Love

This summer, Sears is launching a new campaign, Love. Hate. Share Your Thoughts. Send Some Love, to help raise funds for participating nonprofit organizations. Sears will be donating $145,000 distributed amongst four charities based on consumers' choice.
Chico's FAS, Inc. May Is For Miracles
Chico's FAS, Inc. and its family of brands, Chico's, White House Black Market, Soma Intimates, and Boston Proper, are proud to partner with Children's Miracle Network Hospitals (CMNH). This May Chico's FAS, Inc. and Children's Miracle Network Hospitals are teaming up to support children in local communities in the May Is For Miracles campaign. Every card created on www.chicos.com/sendasmile, will be printed and sent to a child receiving treatment. Chico's FAS, Inc. will also donate $1 for every card sent, up to $50,000.
Ford Warriors in Pink
Ford and Susan G. Komen are continuing their partnership this year with the popular and successful program, Warriors in Pink. Warriors in Pink campaign raises awareness and funds for breast cancer research. One hundred percent of net proceeds from the Warriors in Pink line of wear, now available at Ford Cares website, will be donated to participating breast cancer charities. Furthermore, Warriors in Pink will be honoring and highlighting the stories of breast cancer survivors.
Hilton Worldwide & Room to Read Annual Fundraiser
Hilton Worldwide is participating in Room to Read's Annual Spring Fundraising campaign by supporting the Girl's Education program and matching all donations, up to $150,000, through May 31st. Each donation amount has an assigned gift that will be donated to a young girl. For example, a $50 donation will provide a young girl with a bicycle to get to school or $100 will give her the opportunity to attend an academic support camp.
Pantene Beautiful Lengths
Pantene and Seventeen Magazine teamed up to host the first ever National Donate Your Hair Day, benefitting Pantene's Beautiful Lengths program. This was the first annual day of giving where women and men nationwide were encouraged to cut and donate their hair to Pantene Beautiful Lengths. Beautiful Lengths encourages individuals to grow their hair and then cut and donate their locks to the American Cancer Society, which provides real-hair wigs free of charge to cancer patients who have lost their hair due to medical treatments.
Home Depot Doing Nation
Home Depot launches a new spring initiative, Doing Nation, allowing consumers to turn their outdoor projects into cash for a good cause. To participate, consumers choose a project from six options listed on the campaign site. Once the project is completed, consumers upload a photo and choose which of the four nonprofits they would like to receive $100.
Procter & Gamble Thank You Mom
Procter & Gamble is launching their largest campaign to date in an effort to raise funds and offer children a broader access to youth sports worldwide. Thank You Mom is raising funds through multiple tools with a goal to reach $500,000. As part of the first campaign, P&G will donate $1 to Team USA Youth Sports Fund (up to $100,000) for every person who likes Thank You Mom's Facebook page.
Walmart Fighting Hunger Together
Walmart and four of the nation's top food brands, ConAgra, General Mills, Kraft and Kellogg's, team up to launch the hunger relief campaign, Fighting Hunger Together. Along with nonprofits, Feeding America and Action for Healthy Kids, the campaign brings 42 million meals to Americans and $2 million to communities in need this spring.
Nissan, Habitat for Humanity Charity Game
Nissan and Habitat for Humanity are taking action to help raise funds and build homes for families in need through their newest campaign, Habitat for Humanity Charity Game. To play the game, fans and consumers can visit Nissan's Facebook page and type a specific action, such as clean a window, for virtual builders to follow. For each task or word submitted, players will receive points that they can redeem for a personalized video from a Nissan volunteer pounding a nail at a building site in their behalf.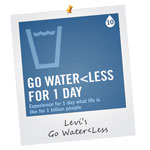 Levi's Go Water Less
This past World Water Day, Levi's and Water.org teamed up for the second consecutive year to launch a new interactive challenge for fans and consumers called "Go Water Less." The Go Water Less campaign challenges people to experience what life is like for the billion people without clean drinking water across the globe. For every person who accepts a challenge and gains 10 points on www.levi.com/waterless, one person will receive clean water for life.
Toyota 100 Cars for Good
Toyota USA launches the second run of its widely successful philanthropic program, 100 Cars for Good, in which the company awards 100 vehicles to 100 U.S. nonprofits over the course of 100 days. Each day, five organizations will be posted on Toyota's Facebook page, inviting the public to vote and determine the winning nonprofit organization. The daily winner will be awarded with one of six Toyota models with the four runners-up receiving a $1,000 grant.
ConAgra Foods Child Hunger Ends Here
ConAgra Foods continues their support of ending childhood hunger in America by launching their nationally-recognized campaign, Child Hunger Ends Here, for the third consecutive year. Consumers who purchase a participating brand (i.e. Chef Boyardee, Healthy Choice, Snack Pack, Peter Pan, etc.) and enter the eight-digit code located on the back of the specially-marked packages at the campaign site, ConAgra will donate the equivalent of one meal to Feeding America.
Kenneth Cole Retail Program for Haiti
Kenneth Cole has launched a new campaign to help raise funds for those who are still affected by the devastating earthquake in Haiti in 2010. The retail program is asking consumers to add a $10 donation to their total online or in-store purchase after shopping online or at a local Kenneth Cole store. In addition, for every fan who "likes" the infographic posted on Kenneth Cole's Facebook page, Kenneth Cole will donate $1 to Haiti.
NEA Read Across America, Driven by Mazda
Mazda is taking a different approach and introducing their newest vehicle, Mazda CX-5, through the National Education Association's (NEA) project, Read Across America. The campaign, National Education Association Read Across America Tour, Driven by Mazda, supports struggling public school libraries in 20 cities to help children develop a love for reading. Between February 20 and April 2, Mazda will donate to NEA $25 per test-drive for every consumer who test drives a new Mazda vehicle at a local dealership, up to $1 million.
HP eSmiles
HP and participating Ronald McDonald Houses have teamed up to launch their new campaign, eSmiles. The eSmiles project will help support children and families staying at the participating Ronald McDonald Houses by using HP's ePrint technology, their newest Web-connected printer. For every person who sends an eSmile to one of the five Ronald McDonald Houses, HP will donate $1, up to $10,000 per household.
Kraft Macaroni & Cheese Golden Voice of Love
Kraft Macaroni & Cheese is teaming up with Feeding America to support hunger in the United States by launching their first Valentine's Day campaign, Golden Voice of Love. For every consumer's Valentine's Day tweet tagged with #VoiceOfLove on Twitter, Kraft will donate 100 boxes to Feeding America, up to 100,000.
Quaker State Drive to End Hunger
Quaker State is teaming up with the AARP Foundation for the Drive to End Hunger campaign, which aims to help raise awareness and fight hunger among older Americans. For every five-quart bottle of Quaker State Ultimate Durability or Higher Mileage Engine motor oil bought, 25 cents will be donated, up to $50,000, to AARP Foundation. In addition, Quaker State will donate a portion of proceeds of specially-marked Quaker State products sold at Walmart to help provide meals to older Americans struggling with hunger.
We Can Be Heroes
DC Entertainment, along with support from Warner Bros Entertainment and Time Warner businesses, has dispatched its superheroes to fight hunger in the Horn of Africa as part of their We Can Be Heroes cause marketing campaign. The campaign supports three nonprofit organizations: Save the Children, Mercy Corps, and International Rescue Committee. DC Entertainment says it will match donations to the three nonprofits 100%.
L.L. Bean Million Moment Mission
To celebrate L.L. Bean's 100 years of exploring outdoors they are partnering with National Park Foundation for their Million Moment Mission campaign. The new campaign aims for individuals to share stories, pictures, ideas, or memories of outdoor experiences online or via an outdoor event in 2012. For each photo, story, tweet, or "like," L.L. Bean is donating $1, up to $1 million, to support National Park Foundation's programs for kids.
Heinz Ketchup Our Turn To Serve
Heinz Ketchup launches Our Turn To Serve campaign benefitting Wounded Warrior Project and the United Service Organization (USO) to show appreciation to our American veterans. Heinz Ketchup asks diners to give thanks and scan a quick response (QR) code on the back of a 20-ounce bottle with a smart phone to send a personalized thank you to USO veterans. For each "thank you" sent and "like" on Facebook, Heinz will donate 57 cents, up to $200,000 in support of Wounded Warrior Project.
Campbell's Labels for Education
Campbell's supports multiple K-12 schools, public libraries, care centers, and more by awarding free educational equipment through their Labels for Education campaign. For more than 38 years, students, families, and members who provide proof of purchase from the Campbell's family of brands including BIC, V8, GLAD, Emerald, and Dannon, will help their local schools receive free merchandise.
GLAD One Bag
GLAD teams up with Association for Advancement of Sustainability (AASHE) and Keep America Beautiful to launch their One Bag campaign, which targets college-aged consumers to dispose only "one bag" of waste to landfill and divert the rest to recycling or compost. By aiming at college campuses and football programs, the One Bag movement motivates tailgates, teams, students and schools to download a free resource kit and host their own event that's mindful of recycling and sustainability. GLAD will provide ten $2,000 grants to help a stadium, sports league or team reduce their landfill waste.